Carbon Trust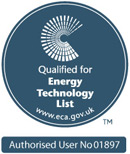 The HeatSave system was accredited by the Carbon Trust in May 2009. The Carbon Trust was setup by Government as a not-for-profit company with the mission to accelerate the move to a low carbon economy. They provide specialist support to help business and the public sector cut carbon emissions, save energy and commercialise low carbon technologies.
For more details please visit the Carbon Trust website.
Energy Saving Trust

The HeatSave system includes an Energy Saving Trust Recommended multi-boiler Intelligent Controller. The Energy Saving Trust was setup by Government as a non-profit company to deliver the substantial government-funded programmes. They are independent and continue to provide communities and households with impartial advice.
For more details please visit the Energy Saving Trust website.
ISO 9001

ISO 9001 is a quality assurance model made up of quality system requirements. This model applies to organisations that produce, install, and service products.
ISO expects organisations to apply this model, and to meet these requirements, by developing a quality system.
HeatSave has been assessed by National Quality Assurance Ltd and has achieved ISO 9001 certification.
National Quality Assurance (NQA) is a leading accredited certification body carrying out third party registration of management systems against the requirements of national and international standards.
For more details about ISO 9001 Quality Assurance, visit the NQA website.
Safe Contractor

Safecontractor is an accreditation scheme that assesses the health & safety competency of contractors and service providers.
Clients have a legal obligation to ensure that external contractors and service providers working on their premises operate in a safe way.
There is therefore a need to assess contractors health & safety arrangements and increasingly this is being carried out through Safecontractor.
For more details please visit the Safe Contractor website.
CCNSG Safety Passport Scheme

Tensor Installation Engineers are covered by the Client Contractor National Safety Group (CCNSG) Safety Passport Scheme organised by the Engineering Construction Industry Training Board (ECITB).
The aim of the CCNSG Safety Passport Scheme is to ensure a basic knowledge of health & safety for all site personnel to enable them, after appropriate site induction, to work on site more safely with lower risk to themselves and others.
Some of our engineers have also had additional training to gain the Supervisors Passport.
For more details about the CCNSG Safety Passport Scheme, visit the ECITB website.
MCS

The MCS certificates microgeneration technologies used to produce electricity and heat from renewable sources.
The MCS is an internationally recognise quality assurance scheme which demonstrates to your customers that your company is committed to meeting rigorous and tested standards. It was designed with input from installer and product representatives. Similar to the Gas Safe Register, the MCS gives you a mark of competency and demonstrates to your customers that you can install to the highest quality every time.
For more details about the MCS scheme, visit the MCS website.
B&ES Building & Engineering Services Association

The Building & Engineering Services Association, founded in 1904, is the UK's leading trade association for building services engineering contractors.
B&ES members are active in the design, installation, commissioning and maintenance of heating, ventilating, air conditioning and refrigeration (hvacr) products and equipment.
The trade association provides all its members with commercial, legal and technical advice, health and safety guidance, an employment affairs resource, promotional and parliamentary lobbying support and an infrastructure for education and training.
B&ES is itself a member of the Specialist Engineering Contractors' (SEC) Group, of GCI-UICP, the European umbrella body for the hvacr and plumbing sectors, and of CEETB, which represents all engineering specialists in construction. The B&ES is also a member of the Trade Association Forum.
As a B&ES affiliate member, HeatSave is subject to regular, third-party inspection and assessment to ensure technical and commercial competence.
For more details about the B&ES Building & Engineering Services Association, visit the B&ES website.