HeatSave valves are a very affordable solution for cutting heating costs in hospitals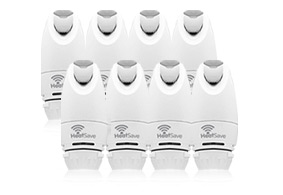 Alder Hey Children's Hospital in Liverpool will get a new, modern building, which is set to open in autumn 2015, a news report reveals.
The design of the new hospital building was actually inspired by a drawing made by a former patient. It will have 270 beds – including 48 for critical care – with most rooms including views of the park and all with easy access to play areas.
The new Alder Hey Children's Hospital will be built right along the older, existing building, that will be ultimately demolished, with the site being set to be developed into a new park.
Such a new and modern building will certainly require a very effective energy management system to be put in place, and that's exactly where the HeatSave programmable wireless thermostatic valves can really come in handy.
The HeatSave wireless thermostatic valves represent a very good solution for the healthcare industry, where energy costs are 2nd only to labour costs. That's because the TRVs can help customers slash their energy bills by up to an impressive 30 percent by allowing them to thoroughly control the heating patterns for every single one of their radiators.
Moreover, it's quite likely that the hospital could benefit from the financial advantages provided by the Government's Green Deal scheme, given the fact that the HeatSave valves represent an approved measure to control radiators under the aforementioned programme.
If you want to find out more about the HeatSave wireless programmable thermostatic radiator valves, get in touch with our dedicated product team, they'll be more than happy to answer all your questions.