HeatSave wireless TRVs now available via Heat Group (UK)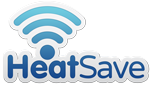 HeatSave, developer and supplier of the revolutionary HeatSave wireless thermostatic radiator valves, capable of saving you up to 30%+ on your energy bills, has announced today that it has signed a distribution agreement with Heat Group (UK), an independent heating spares stockist with five branches located through-out East Anglia.
Their large, varied stocks and knowledgeable, helpful staff mean they are the place to go for gas and oil boiler spares, cooker and gas fire spares, domestic and commercial heating controls and much more.
Currently, you can find Heat Group (UK) Ltd. outlets in Cambridge, Colchester, Ipswich, Norwich and Peterborough, but if you're located in some other part of the country and still want to get the HeatSave valves, you can order them and the company will ship overnight to anywhere in the UK.
The HeatSave wireless TRVs are extremely easy to set-up and install, since users will only have to unscrew the existing TRV by hand and replace with the HeatSave wireless radiator valve.
Additionally, the user friendly software and USB stick lets anyone wirelessly check and control individual radiators from any Windows™ laptop or PC.
So, one can turn down the heating in rooms that they're not using and one can also easily plan up to four years in advance for times when the heating will not be in use with the heating holiday diary, while the 'hands on' override button on the valve means quick changes are easy from within the room.
If you'd like to find out more technical info on the HeatSave programmable wireless thermostatic valves, just contact our dedicated product team, or, if you've already made up your mind, you can easily get them from one of our official Resellers.