Energy-saving home heating system compatible with most radiator valve bodies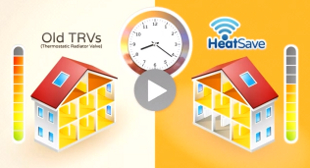 Now being constructed in the Midlands is a scheme to heat buildings using warm air piped from an incinerator. The innovation in Coventry city centre is being funded with £2.2 million from a Housing and Communities Agency grant plus £3.2 million from contractors Cofely. The local council, as well as other agencies, will pay Cofely a monthly bill for the energy they use and to operate the scheme over a 25-year period.
HeatSave allows homes to save energy, cut emissions and slash fuel bills using wireless radiator valves that control the heating in every room. The key features of HeatSave include the setting up all valves wirelessly from one Windows laptop or PC. It has a built in memory to match your lifestyle so that each valve remembers heating patterns and future holiday dates. You control the heating bills – they don't control you! It is compatible with most radiator valve bodies – including B&Q, BSS, Danfoss, Herz and Honeywell. Click for the full list here.