Find out how householders can fit a simple energy efficiency upgrade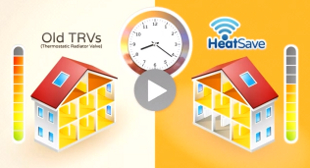 The DECC (Department of Energy and Climate Change) predicts the Green Deal government scheme will give a major jobs boost to the UK's industry, saying yesterday the plan is "part of the DECC's contribution to growing our economy." A source within the DECC said so far 24 providers have been accredited to fit energy efficiency upgrades under the Green Deal, while the Green Deal Oversight and Registration body has another 40 firms likely to receive approval within the next week.
HeatSave will enable householders to fit a simple energy efficiency upgrade: PC controlled wireless programmable thermostatic radiator valves. They need simple DIY installation, so just unscrew the existing thermostatic radiator valve (TRV) by hand and replace with the HeatSave wireless radiator valve. The user friendly software and USB stick lets you wirelessly check and control individual radiators from any Windows™ laptop or PC. At the touch of a button, you simply turn down the heating in rooms that you're not using.